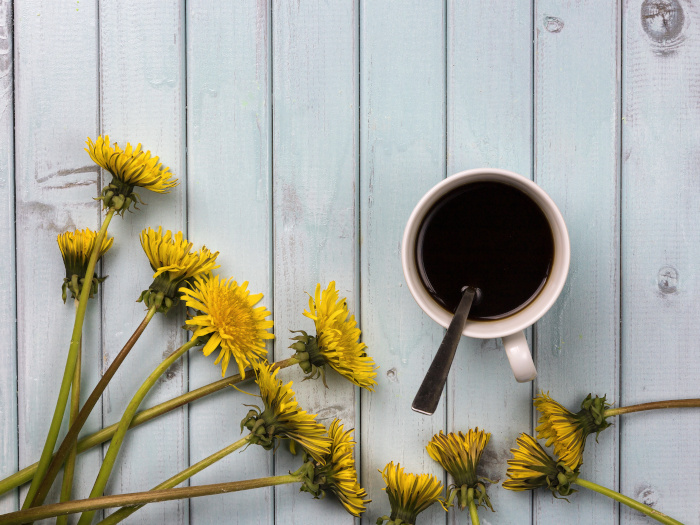 The easiest way to make dandelion coffee would be to buy ground roasted dandelion root powder and make a delicious cup in a matter of minutes. Many store-bought dandelion coffee brands usually are a blend of dandelion leaf and root powder and chicory root powder. However, if you have the inclinations of a forager or just plain prefer to make your own dandelion root powder, we have just the right manual for you.
How To Make Dandelion Coffee?
Dandelion coffee is a delicious caffeine-free beverage made by steeping dried and roasted dandelion roots. It tastes almost similar to coffee and has the same dark chocolate hue, but without the acidic bitterness. This herbal beverage is not new – it has been around since the 1800s and was popular in Europe and America. While decafs were snubbed by the coffee lovers, herbal coffees, especially dandelion coffee, has made a comeback due to its zero-stimulant and rich antioxidant content. You can read more in 3 Proven Benefits Of Dandelion Coffee.
To make dandelion coffee from scratch, here is the step-by-step method.
Harvesting Dandelion Roots 
Dandelions are usually like weeds; they spring up anywhere. Chances are you may have a yard full of them just where you live. They are not easy to pull out with their roots intact. So you may need a trowel and a shovel, or at least a stick, to loosen the soil. Moist soil is an easier bet. Grab the base of the plant and pull gently. Also, you will have to collect a lot as about 15-18 dandelion roots can yield roasted powder for a cup of coffee.
Cleaning Dandelions
Clean the roots as best as you can with a scrubber. Once the roots are clean, you can chop into small pieces. Don't discard the flowers and the leaves. You can use the flowers to make dandelion tea. The leaves make an excellent addition to salads and have an earthy, slightly bitter taste like endives or radicchio.
Roasting The Roots
Once cleaned, you need to dry out the roots. You can use a dehydrator for about an hour or leave it to dry naturally in the sun for about 7-8 hours. Once they are completely dry, roast the pieces of dandelion roots in an oven at 350 degrees F for about 35-40 minutes. They should be dry and roasted, and not squishy. If you have bought dried dandelion root from the market, then roast it for about 15 minutes in the oven at 350 degrees F.
Grinding & Storing
You can grind it in a coffee grinder to smaller pieces. Some people skip the grinding step and use the small roasted pieces to make the coffee. Store the powder or the roasted roots in a glass jar in a dry, dark place.
Dandelion Coffee Recipe
Now that you have your home-made roasted dandelion root powder, let us see how to make the perfect dandelion root coffee at home.
How To Make Dandelion Root Coffee?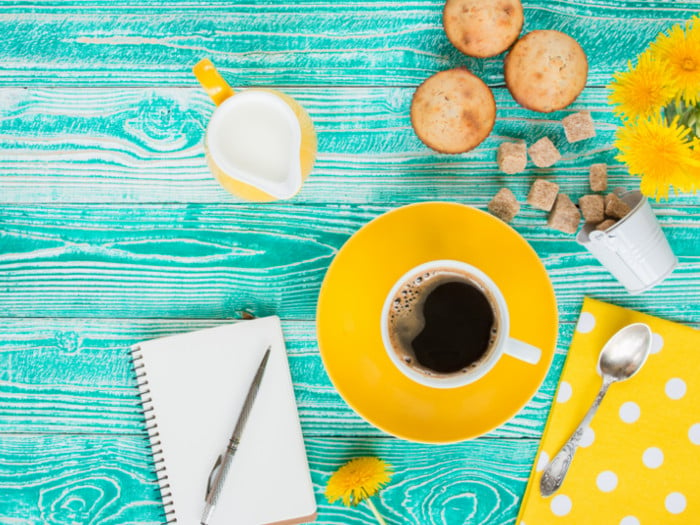 A delicious coffee alternative that is rich in antioxidants!
2 tbsp roasted dandelion root (ground)
2 cups water (filtered)
1 cinnamon stick
2 tsp honey (optional)
To make this herbal coffee, you will need powdered roasted dandelion root.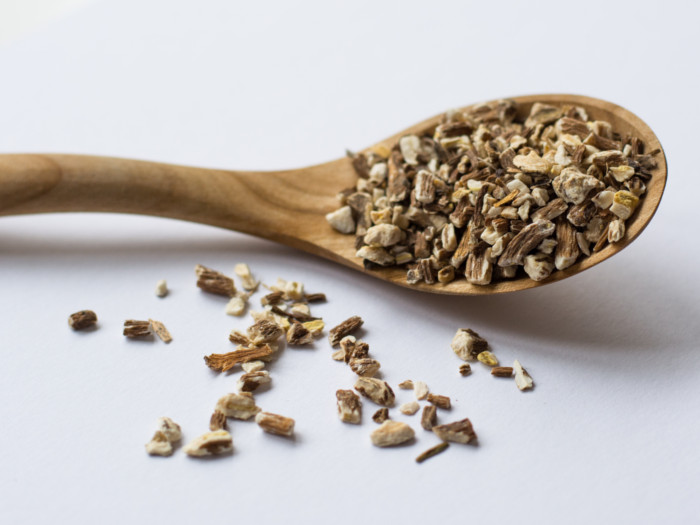 Put the dandelion root, water, and cinnamon stick in a saucepan and bring it to a boil. Let it simmer for 7-15 minutes depending on how strong you want the coffee. 
Strain into cups and enjoy it warm! 
You can have the coffee black or add cream, milk, or any nut milk on your choice. If you want to add a natural sweetener, raw honey, or maple syrup work well. You can also add vanilla extract. 
You can add spices of your choice to enhance the flavor. Popular choices include nutmeg powder and fennel seeds.
Try adding chicory root powder to make a stronger dandelion coffee. 
While dandelion root coffee is usually enjoyed as black coffee or as a hot beverage, you can try these fun recipe variations too.
Iced Dandelion Mocha: Add 1 tablespoon cacao nibs and 2 tbsp dandelion root powder to 2 cups of water and simmer for 15 minutes. Pour into 2 glasses with ice cubes. Add 2 tbsp of cream or thick coconut milk to form a creamy layer on the coffee. Enjoy!
Creamy Cashew Dandelion Coffee: Add 2 tbsp of roasted dandelion powder to a cup of cashew milk. Add 1 tsp of cinnamon powder, 1-2 drops of vanilla extract, a tablespoon of raw honey, and let it simmer for 15 minutes. Strain and enjoy this wonderful creamy beverage, especially on cold snowy days.
Dandelion Coffee Latte: For a latte version, make a cup of dandelion root coffee. Warm 1/4 cup of milk or nut milk in a saucepan. Coconut milk works best as it becomes creamy and thick for a perfect latte. Pour the coffee into the saucepan and add a sweetener of your choice. Pour into cups and sip your creamy latte!
"Bullet-proof" Dandelion Coffee: Some people swear by the bullet-proof coffee for a liver cleanse. You can add 1 tsp of grass-fed butter or ghee into a cup of dandelion coffee for a caffeine-free version.
Easy Dandelion Coffee On-The-Go: If you are traveling and do not have access to the dandelion powder, you can steep 2-3 dandelion tea bags for a strong coffee.
The post How To Make Dandelion Coffee appeared first on Organic Facts.
>> DOWNLOAD NOW <<
loading...